Please, do the following to participate DR12
1. Choose to participate Full 9 days (recommended) or less days
- Ask DR12 organizer's advice if needed
2. DR12 PrePayment US$250 locks the best possible -15/12% discount
3. Check the flight price to Santo Domingo airport (SDQ)
4. Reserve or let Vesa to reserve your Santo Domingo hotel: Europa or Palacio
5. Pay the rest of DR12 before August 31 and buy your flight in September

QUESTIONS? Ask as many questions as you wish, eg. participating alone, with someone, group, total costs, dance level expected, security, authentic, room types, other hotels, flight options, return flights. DR12 organizer is happy to help you through the process. Closer to the DR12 festival you'll get an info package about airport taxi, security issues, insurance, money, exchange, shoes, clothing and dozens of small issues more.
Hotel Reservations
Please, don't improvise!! instead of reserving a random hotel, false dates or agonizing with the room sharing, ask for the advice of DR12 organizer

!!! Notice!! you should arrive 1 day earlier and fly back next day. E.g. fly and accommodate Dec 9-19 to participate the whole 9 days (Dec 10-18). You can also opimize your return flight back to home to be on Tuesday Dec 18 from Santiago or from Santo Domingo after 6PM.
Hotel Choices for Santo Domingo
DR12 recommends luxurious Hotel Palacio or convenient Antiguo Hotel Europa. They have served us flawlessly for a decade. Both of them are enough close to the workshop place Trovas Tapas Bar, 2nd floor, Calle Isabel la Catolica #210, look at the map. Theoretically you can choose any other hotel as long it is in the walking distance of the workshop place. However then you'll loose the convenience of the DR12 party bus stop and the night security.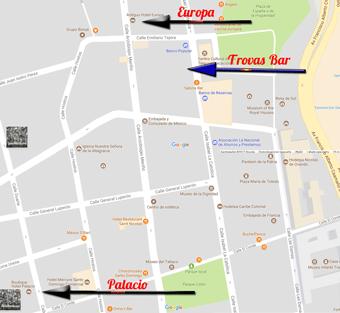 Hotel Palacio is extremely beautiful historical building. It has a pool and minibars in the rooms. The building was the Palace of the Dominican Republic ex-president Buenaventura Baez. Book directly www.hotel-palacio.com WITH THE 10% DISCOUNT CODE FBDR2018 for the DR12 Santo Domingo dates December 9-15, 2018. Palacio has really many room types. Please check the prices directly from the hotel room reservation page. Check first DR12 Facebook group if Hotel Palacio has announced even better discount opportunities.
Antiguo Hotel Europa is affordable and beautiful. It has a fancy lobby, roof Terraze and absolutely excellent location close to Ruins and Plaza de España, but no pool and no minibar in the rooms. THE BEST REFUNDABLE DISCOUNTED PRICE you'll get if you let DR12 organizaer Vesa to pass your reservation to the hotel manager. Ask Vesa the discounted prices for single room, double room with 1 bed and double room with 2 beds.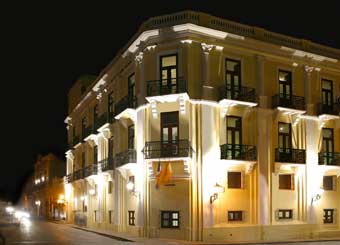 Look at the Antiguo Hotel Europa trailer below.
Ruta Bachatera Hotels
DR12 will take care of your Ruta Bachatera hotels Dec 15-18 (3 nights). The DR12 ticket price includes the Ruta accommodation in a shared double. Single participants should contact DR12 organizer to select with whom to share the room or whether to pay a single room extra.
DR12 Festival Ticket Prices



Full 9 days (Catamaran+StoDomingo+Ruta)
- including Ruta hotels and private bus
- normal price US$1120, 12% discounted US$986
- prepay now US$250, rest US$736 before Aug31

Catamaran 1 days +SantoDomingo 4 days
- normal price US$540, 15% discounted US$459

Ruta Bachatera 4 days incl hotels and private bus
- normal price US$680, 12% discounted US$598
- includes hotels and private bus!!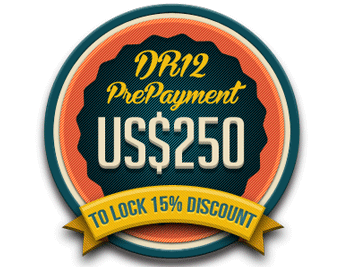 Lock the best 15/12% discount by paying DR12 PrePayment US$250 before July 24. It's a convenient way to pay in parts and to lock 15% discount for first 5 days and 12% discount for last 4 days. You should take advantage of the current super discounts: Palacio -35%, DR12 Santo Domingo -15% and Ruta -12%. The rest of the DR12 Festival Ticket with the 15/12% discount benefit must be paid before August 31 or without the discount benefit before November 30. You should take into consideration that the PrePayment itself is non-refundable, which means it will not be returned in any case. However you can sell it to someone else or you can use it for DR13 or DR14.
Ready? questions? contact DR12 organizer, Bachata Ambassador Vesa

to get the payment instructions and disclaimer text.
What is included and not included!
DR12 Catamaran price includes the bus transport, catamaran, lunch and all the drinks. DR12 Santo Domingo price includes 20 workshops, parties, concerts and party transport, but not flight, food, drinks and the hotel room in Santo Domingo (Dec 9-15). DR12 Ruta Bachatera price includes Ruta activities, Ruta hotels (3 nights in a shared double Dec15-18), private bus transport and entrance fee to the river&waterfall, parties and concerts, but not flight, food and drinks. The airport taxi is not included into the prices. The exact sum to be paid, payment instructions and disclaimer we will send you by email.
Total price
There are no big hidden expenses, but it's a good idea to understand how to count the total price. You simply add to the DR12 discounted 9 days ticket price (US$935) the Santo Domingo 5 hotel nights (about US$240 per person in a shared double), flight, airport taxi (US$50), food and drinks. If you are lucky to get an economic flight, the total amount of money needed for full 9 days should be about 2000 euro from Europe and about US$2000 from United States depending from where you fly.
Do you have to pay it all at once?
The order of the payments is:
1. Now DR12 PrePayment
2. Before Aug 31 The rest of DR12 Ticket
3. September Flight
4. On arrival Hotel Europe in Santo Domingo
5. During the event Taxi, food and drinks
You must arrange your own flight!
The companies flying to Santo Domingo (airport code SDQ) from USA are JetBlue, American Airlines AA, United Airlines UE, Delta Airlines DE, Copa Airlines and from Europe Air France AF, Air Europa, Condor and Air Berlin. The cheapest flights from Paris you'll find from French Blue and from Brussels from Jetairfly. Try also Google "Cheap Flights to Santo Domingo" and compare in www.momondo.com.
DR12 disclaimer
By paying the DR11 festival ticket you accept the festival Disclaimer, which basically says that DR11 festival and it's organizer are responsible only for the festival workshops, fun activities, parties and concerts. DR11 is not responsible for the flights and Santo Domingo accommodation. DR11 reserves all the rights to do any changes to the festival program before prior notice. No refunds even if your favourite artist/ instructor is missing. In the past some live bands have cancelled the signed and paid contract but we have been able to get even better artists to do the job. In DR3/4/5/7/8/9 we didn't have any problems at all. Notice! your name is your ticket and we'll check it when you arrive in the festival.