Day to Day Program Explained
DAY 0 SUNDAY:
Arrival, PreRegistration, Bonye@Ruins
DR12 is a great adventure right from the arrival. After the pre-registration we go to see you'll see the mighty Grupo Bonye @ Ruins with thousands of Dominicans having drinking and dancing.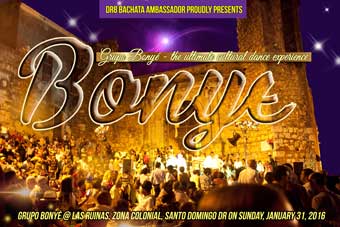 It's a steaming hot dance party. Maybe we will later on see some other club also. Arrival day isn't yet a festival day, but we are happy to welcome everyone with the most exotic ambient.
DAY 1 MONDAY:
Catamaran Excursion to Saona Island
Catamaran Excursion to Saona Island has always been the best ever, life long tropical bachata paradise experience. We did it in DR2, DR3, DR4, DR6, DR8, DR10, DR11 and now we proudly do it in DR12. It's a must! Catamaran Excursion is all-inclusive dance excursion to Saona Island. The price includes lunch, drinks, charter bus, catamaran, Saona island, ocean pool, animation, fun activities and endless amount of dancing. The best of all is dancing, swimming and partying on catamaran, Saona and everywhere with dance crazy people. Carlito and Yocasti will take care of the best ever animations. Naturally you'll take hundreds of photos and videos. Look at the Catamaran page, trailer, Mueve la Colita, Catamaran Fun, Paradise Bachata Social, Yocasti Paradise Beach, photos, videos and book your trip to bachata paradise.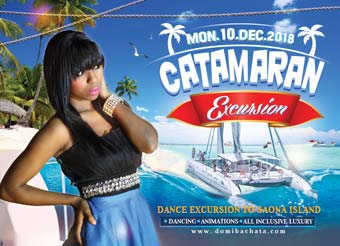 DAY 2 TUESDAY: SANTO DOMINGO
Registration 9:30AM, workshops 10AM-4PM. At night we meet 7PM at Hotel Europa to see some Zona Colonial clubs, e.g. in past years we have visited many times Club Merengue: DR6 party, Rodolfo&Yocasti Salsa, Vesa&Yocasti Bolero, Rodolfo&Yocasti Bachata, Vesa&Yocasti Merengue and Melanie concert.
DAY 3 WEDNESDAY: SANTO DOMINGO
Workshops 10AM-4PM. Departure to the Barrio Club concert by bus in front of Hotel Europa 8PM. Estimated return 1-2AM. The transport is included. DR11 had the best ever concert night "tripletazo bachatazo" meaning 3 famous artists Zorro Negro, Jose Miguel and also Joan Soriano had a couple of songs. The place was full full, a lot of dancing and our 20 talented Dominican dancers did amazing dembow and merengue animations. What a night!!! We hope DR12 will have something similar.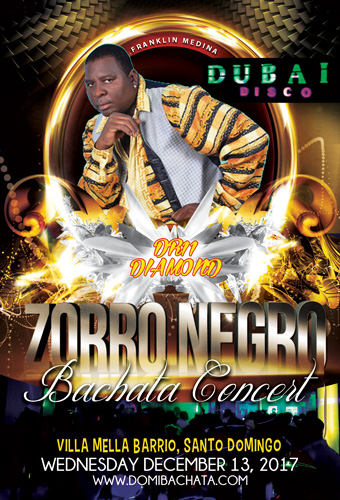 Jose Miguel, great bachatero with excellent music for the dancers.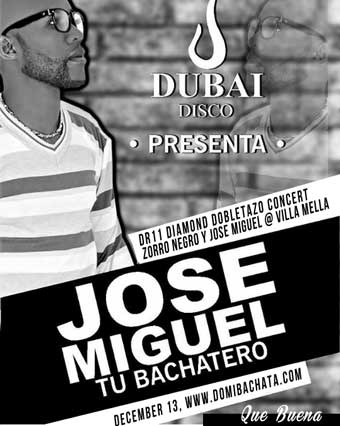 DAY 4 THURSDAY: SANTO DOMINGO
Workshops 10AM-4PM. First party 7PM at Colmadon.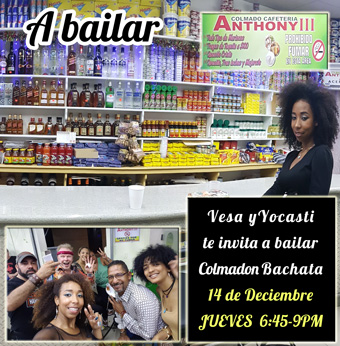 The second party will in a Barrio Cabaret, departure at 9PM by bus in front of Hotel Europa. Estimated return time 1AM. We don't want any other groups, individuals or tourists to join us into this legendary place.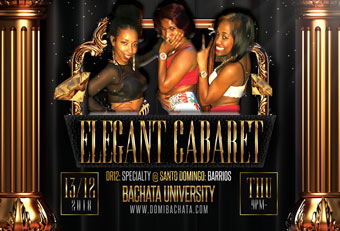 DAY 5 FRIDAY: SANTO DOMINGO
Workshops 10AM-4PM. Departure to live bachata concert 8PM from Antiguo Hotel Europa. DR11 was extremely happy to have Anthony Santos concert, Joe Veras concert and a Tipico concert. It was a long night, first went the whole group together to a Car-Wash to dance bachata, salsa and topico with live band. After that there were the concerts of Joe Veras at another barrio car-wash and the Anthony Santos at City Cub.
It was funny that our DR11 marketing said Dinastia@L'Hangar. Our competitor copied our idea and they were anxiously waiting for us in L'Hangar. We didn't choose L'Hangar because it had just a regular free of charge party. Instead we offered to DR11 the best ever party&concert night.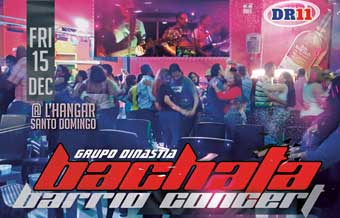 Ruta Bachatera
DR12 Ruta Bachatera Dec 15-18 starts on Saturday 10:50AM from Hotel Palacio and 11AM from Hotel Europa and ends on Tuesday 2-3PM in Zona Colonial Santo Domingo. You have to check-out the Santo Domingo hotel on Saturday Dec 15. Make sure your flight back to home will be on Wednesday Dec 19 or on Tuesday Dec 20 later than 6PM.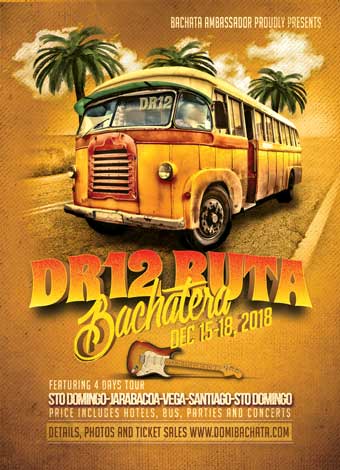 We will have the DR11 Ruta Bachatera bus the whole 4 days Dec 16-19.
DAY 6 Saturday: Santo Domingo -> Ruta
First we visit Los Tres Ojos in Santo Domingo.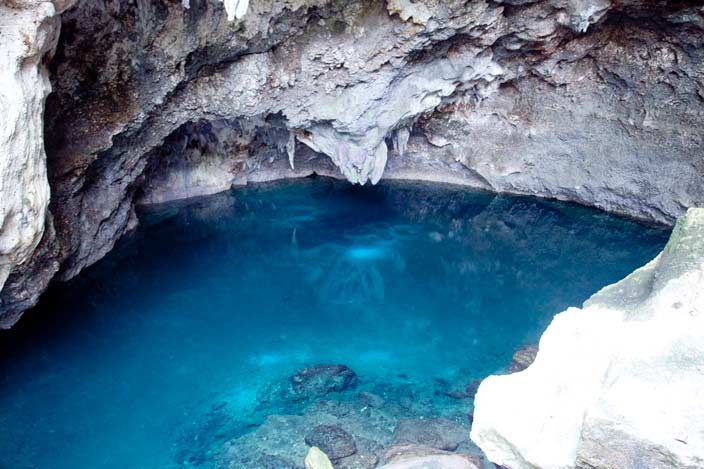 Then we continue to La Vega. At night we have a combination of Karaoke dinner, Colmadon and the wildes disco of La Vega.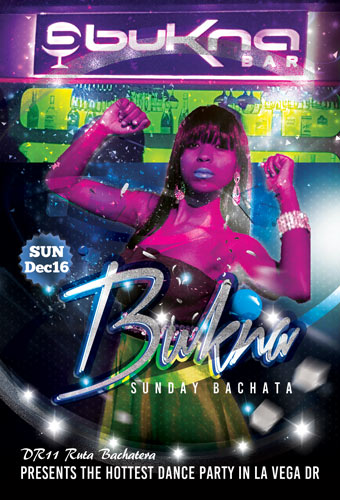 The concert of the most famous artist will start really late. In DR9 we were lucky to see both Anthony Santos and Raulin Rodriguez. Some of the DR12 artist info will be announced closer to the festival.
DAY 7 SUNDAY: RUTA
On Sunday we'll wake up late to spend the afternoon in Fula River Madness.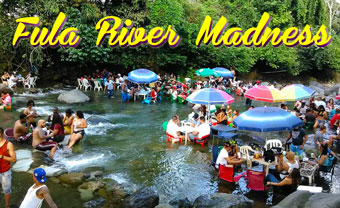 After the River experience we'll move to the Santiago hotel. Sunday night we will get another famous artist. In DR11 we saw Frank Reys and on the way excellent colmadons.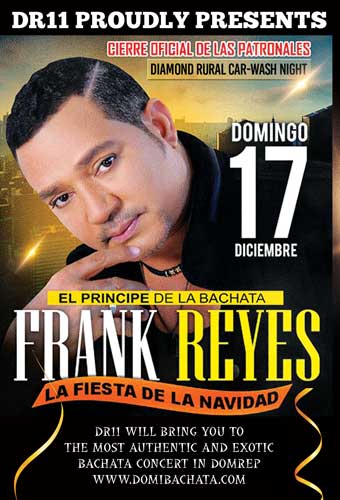 DAY 8 MONDAY: RUTA
On Monday you'll have chance to do the best ever shopping in Santiago de los Caballeros.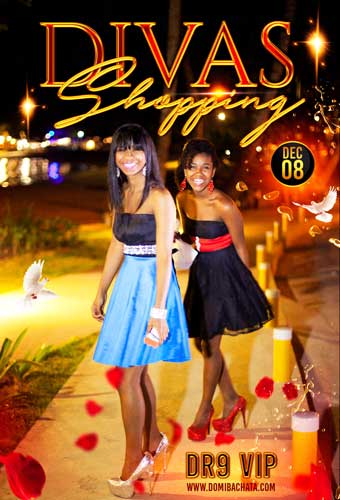 We'll see the Santiago monument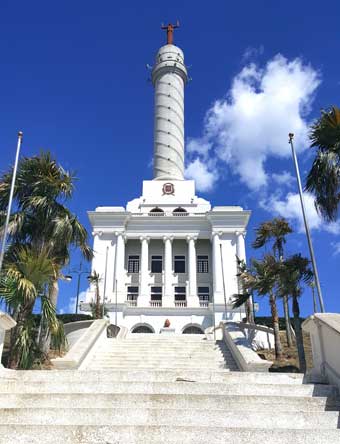 Fine dining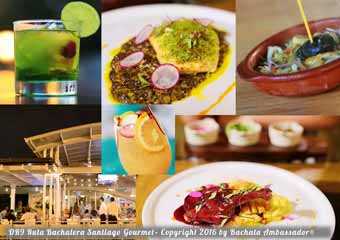 Ruta Bachatera will end with Tony Berroa concert @ Puente Bar, Santiago.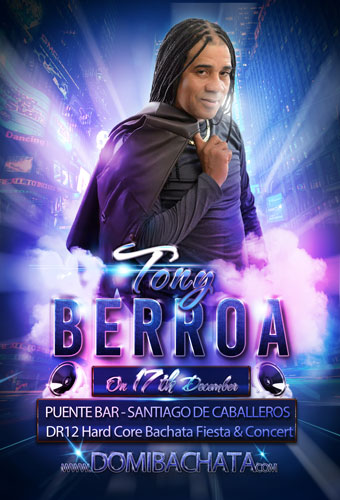 DAY 9 TUESDAY: RETURN FROM RUTA
Ruta Bachatera bus leaves 10:30AM from Santiago to Santo Domingo, arrival in Zona Colonial about 2-3PM. In case you need to return earlier, there are public busses going really early.