DR11 has all the
Dominican dance genres
Dominican clubs play always VARIADA, which means Dominican DJ's playing at one night nearly all the dominican music genrest. The clubs for youngsters focus on Dembow, but they might also play some Merengue, Tipico, international Reggaeton and popular hits. The regular clubs, colmadons and car-washes play mostly merengue and tipico, but also some bachata and salsa. Some clubs specialize in bachata, but however they certainly play also merengue family music (merengue, tipico and mambo).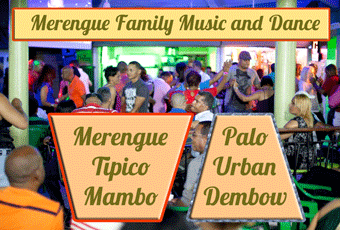 Key question
Should you be pissed of with the dominican music and dance culture? Should you loudly insist more bachata in front of the millions merengue loving dominicans? Lololol...you cannot do that. They will not change their culture. You just have to accept the dominican dance culture as it is !! Instead of getting bored with merengue-tipico-mambo sessions, you should learn to enjoy and dance them :-) Hiding scared or bored in a corner of dance club isn't the right answer.
Authentic Merengue
The video below is a perfect example of the Authentic Merengue. Not all the Dominicans dance as well as Yocasti and Johan. They are really talented natural dancers. They never took any merengue lessons and actually there aren't any merengue and bachata classes for dominicans in Dominican Republic (a few exceptions apply). The Natural way to dance Authentic Merengue is the highest and the most artistic level you could reach.

Yocasti&Johan dancing Merengue in a colmadon
The regular dominicans dance simple merengue, as you can see in the second half of the video below.

Simple Authentic Merengue in Home Run, Sto Domingo

Many Dominicans add also Salsa style hand turnings into their Merengue. Julio will teach you a lot of Merengue tricks.

Julio&Yanet Merengue
Merengue boring?
By definition the merengue video on top of the page cannot be boring because it has 177 000 YouTube visitors. Mostly just the people who cannot dance Authentic Dominican Style Merengue blame Merengue being boring, LoLoL. That's how the life is, people who don't know anything are the most eager to criticize. Seeing and dancing the merengue family dances in Dominican Republic opens automatically the eyes. Merengue family dances are really interesting! If only there would be more merengue workshops...and parties...everywhere in the world!
DR11 has 100% authentic Dominican music
We take it seriously. As we go to the Dominican local clubs all around the island, we'll certainly hear and dance more dance genres than just the bachata. Dominicans actually dance much more Merengue family dances compared to Bachata. Therefore it's crucial to teach our participants to survive the Dominican clubs and parties. We don't understand why the other international promoters just lock the participants into the hotel workshop hall and never let them to see the real Dominican party life. DR11 will have 100% authentic Dominican music in the parties and we are proud in being able to show you the real dominican culture.
Merengue is actually fun

Bachata Ambassador and Liccelot dancing Merengue
You should learn the
Merengue Family Genres
Merengue is the most popular dance in Dominican Republic and also well-known all over the world. People generally understand merengue to be like Elvis Crespo and Olga Tanon type of music. There are so many types of Merengue that some of the brands/ subgenres (tipico, mambo) could be qualified as music genres of their own or at least dance genres of their own. The single word Merengue means by default the music or dance NOT being Tipico or Mambo.
Listen to the legendary Merengue songs Los Algodones and Caña Brava.

The best Merengue music ever (nearly 60 years old)
Tipico (Merengue Tipico, Perico Ripiao) refers to fast tempo old fashioned music&dance, which is still nowadays common everywhere in DRm especially in Santiago&Cibao. While Merengue is relaxed and inspirative, Tipico is faster and has exact rules to dance it.

Fefita la grande la chiflera

Street Tipico in Santo Domingo
Mambo (Merengue Mambo, Merengue Urbano) is the urban version of Merengue. Omega is the most well-known representative of Mambo. The term Modern Merengue would be slippery because Modern can refer to anything new independent if it's standard Merengue, Tipico or Mambo. The term Urbano (=made in cityor barrios) is vague as well. It can mean Bachata Urbana, Merengue Urbano, although mostly Urbano means Mambo or Dembow. Merengue Callejero is mostly Mambo, but can also be Dembow.
Dembow
Dembow is the Dominican Reggaeton for the new generation youngsters, more sexy and even hard-core, stronger then Cuban Reggaeton. Dominicans went through the tipico->merengue->meneito steps adding hip-hop and mambo with very strong URBAN flavour which resulted to modificated Reggaeton, meaning more sexy and more danceable.

Liccelot&Pamela Dembow on the beach

Fula River hard core Dembow Hip
Read more in Wikipedia
Merengue, Merengue music, Merengue Tipico, Omega y su Mambo Violento, Reggaeton, Dembow.
Palo: The oldest music and dance genre
African slaves brought the drumming and the religious practices related to it. Dominican Palo music&dance is the direct descentant of the ancient afromusic from Congo region, central Africa. Palo has adapted over the years some more afrolatin features. Palo is still today widely known and danced by most of the Dominicans. Palo is also known as Atabales.
DR festivals have had the concert of the excellent Palo band "Abagales de San Miguel" several times.
Yocasti dancing Palo