The Golden Stamp Award
La Romana City Council
La Romana City Council (Ayuntamiento Municipal de la Romana) granted Bachata Ambassador Vesa a Recognition January 22, 2016 for his altruism, dedication and effort of raising Authentic Dominican Bachata so high in the whole world and bringing the dancers of the world to share the happiness of dancing with La Romana people. The governor and city council members of La Romana and Higuey honoured our DR8 party in La Romana.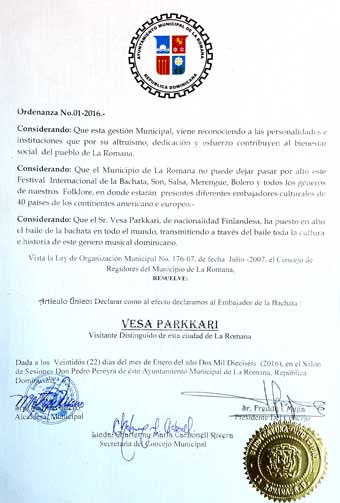 It was a great honour to be rewarded by
Guerra Town Hall
La Guerra Town Hall (Ayuntamiento San Antonio de Guerra) granted Bachata Ambassador Vesa a Recognition (El Presente Reconocimiento) January 23, 2013 to honour his great work with Authentic Dominican Bachata. Vesa has broaght several times the international attendees with "BachataTour Guerra" to dance with Guerra people and hence made Guerra, Guerra people and Bachata famous in the world.
Bachata Ambassador Vesa
The Best Bachata Promoter
Bachata Ambassador has done cultural heroism by bringing nearly 100 Dominican live bands to his Authentic Dominican Bachata Festivals. The absolutely best of all these concerts was DR7 Luis Vargas @ Paraiso Musical. In DR6 Vesa was awarded to be the best bachata promoter in the world.