Los Festivales proximas
DR10 y DR11
DR10 informacion con sus detalles y entradas estan aqui. DR11 informacion estara antes de Navidad 2017 y su informacion publicamos más luego.
Pay attention to the dates in
Flight and Hotel Reservations
Please, don't improvise!! instead of reserving a random hotel or agonizing with the room sharing, ask DR9 organizers

advice!!! Make sure you'll do the flight and room reservations to the correct dates. You should arrive 1 day earlier and fly back next day. E.g. fly and accommodate Dec 8-13 if you participate DR9 Santo Domingo Dec 9-12. Ruta Bachatera Plus will end on Sunday morning Dec 18 about 6AM, so it's safest to fly back on Sunday Dec 18 afternoon.
DR9 PreRuta Bachatera needs special attention, because it starts in Santiago. You can fly to Santo Domingo (SDQ), Santiago (STI) or Puerto Plata (POP). We will organize transport from Santo Domingo to Santiago on Friday morning Dec 2. Flying to Santiago makes it easy to arrive the hotel by taxi. Most probably you can buy a flight to STI and still be able to return from SDQ. If needed we will organize Puerto Plata -> Santiago airport transport. PreRuta ends in Santo Domingo on Friday Dec 8. If you will not participate Santo Domingo, you can stay after PreRuta in Cabarete and to take later on the return flight from POP or STI. Please, don't hesitate to ask DR9 organizer to double check your wild flight plans.
Hotel Choices in Santo Domingo
DR9 recommends Hotel Palacio, Antiguo Hotel Europa and Hotel Saint Nicolas. As we don't have the festival activities in the hotels, you can as well choose Hotel Mercure, Hodelpa Caribe, Aparta Hotel Roma or Casa Conde Hotel Beautique. I have personally been in most of these hotels. Look at the map of their location. The Santo Domingo workshops are in the Museo Trampolin, Casa Rodrigo de Bastidas, Calle Las Damas, Zona Colonial, Santo Domingo.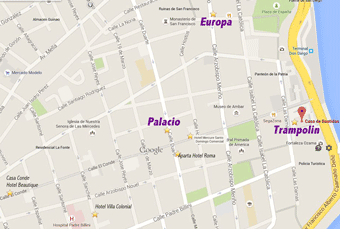 Hotel Palacio is extremely beautiful with a pool and minibar in the room. The hotel building was the Palace of the Dominican Republic ex-president Buenaventura Baez. Reserve the room directly from the Hotel Palacio pages. You don't need a discount code. Book directly from the Hotel Palacio pages to get the lowest price and to help the local economy. Palacio has really many room types. Please check the prices directly from the hotel room reservation page.
Antiguo Hotel Europa is economically priced, excellent location close to Ruins and Plaza España, beautiful lobby and useful roof Terraze, but no pool and no minibar in room. Send email to me

to pass your reservation to Antiguo Hotel Europa. It's the only way to get the discounted price.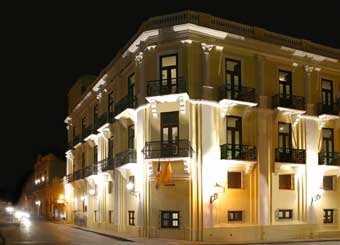 Hotel Saint Nicolas has an excellent location in the middle of Zona Colonial and close to everything. Read more
The coming festivals
DR10 and DR11
DR10 information with details and tickets you'll find in this page. DR11 information will be published later on and it will most probably be before the Christmas of 2017.
Price list, paying and details
DR9 Festival Tickets
We recommend to contact immediately DR9 organizer, Bachata Ambassador Vesa

! He will guide you through the process; festival tickets, paying, hotel reservations and all the necessary details. In case you search for DR10 tickets, click here.
Price list
- DR9 FULL 16 DAYS PLUS US$1960
- DR9 PreRuta Bachatera 7 days US$920
- DR9 Santo Domingo 4 days US$340
- DR9 Ruta Bachatera Plus 5 days US$830
- DR9 Ruta Plus 3 last days US$480
- DR9 Anthony-Fula-Raulin US$380
PreRuta includes 6 and Ruta 4 hotel nights. Santo Domingo price does not include hotel. DR9 FULL 16 DAYS PLUS (=PreRuta Bachatera, Santo Domingo VIP and Ruta Bachatera Plus) price US$1960 includes US$130 discount.
PAY NOW BY PAYPAL OR CREDIT CARD. The prices include +5% Paypal extra.
In case you want to avoid the +5% Paypal extra or you have a discounted price, ask the BANK TRANSFER, WESTERN UNION OR OTHER PAYMENT METHOD instructions from DR9 organizer

.
Dance schools, promoters and instructors should ask for group discounts or commissions. DR9 Santo Domingo 4 Days Dec 9-12 and DR10 Boca Chica 5 Days Jan 27-31, 2017 are perfect for groups.
DR9 PreRuta Price Includes: workshops, animations, parties, concerts, accommodation in a shared double Dec 2-8 (2 nights in Santiago, 1 night in Vega and 3 nights in Cabarete) and transport by private charter bus Santiago->Jarabacoa->La Vega->Damajagua->Cabarete->Santo Domingo. Does not include: food, drinks, flight, airport transport, extra nights.
DR9 Santo Domingo VIP Includes: workshops, parties, concerts and party&concert transportation Does not include: food, drinks, flight, airport transport, accommodation.
DR9 Ruta Bachatera Plus Price Includes: workshops, animations, parties, concerts, accommodation in a shared double Dec 13-17 (2 nights in Barahona, 1 night in Jarabacoa and 1 night in Santiago) and transport by private charter bus Santo Domingo-> Barahona-> Los Patos-> Jarabacoa-> Santiago-> Fantino-> Rio Fula-> Constanza -> Santo Domingo. It also includes 2 x dinner without drinks in Barahona, 1 x dinner without drinks in Jarabajoa and lunch in Fula River. It also includes the entrance ticket to Anthony Santos and Raulin Rodriguez concerts. Does not includes: the rest of the food, drinks, flight, airport transport and extra nights. It does not include the Dec17/18 night in Santo Domingo.
The attendees who bought the original DR9 Ruta Bachatera before Oct25 can buy the Raulin Rodriguez concert US$70 with transport. Raulin is included into the price of the new DR9 Ruta Bachatera Plus :-)
DR9 Diamond options: We decided to sell also the DR9 Ruta Plus last 3 days (Jarabacoa + Anthony + Fula + Raulin) and DR9 Anthony+Fula+Raulin, BUT THE TRANSPORT TO JOIN THE TRIP IS NOT INCLUDED AND YOU MUST PLAN WITH THE DR9 ORGANIZER

.
Big hidden expenses? The only possibly big problem is to be too late in buying the flight and to reserve the Santo Domingo hotel. All accommodation might be sold out or double priced closer to the festival because of Christmas time. The drinks in the clubs are really cheap as well as the snacks and quick lunches during the Rutas. In Santo Domingo you can dine economically or gourmet as you wish. Be prepared to eat well (using a bit more money as you would use in your own country) at least once in PreRuta, Santo Domingo and Ruta because these dinners will be our highlight moments.
AIRPORT PICK UP SERVICE
Our airport transport from Santo Domingo airport (SDQ) to Zona Colonial Santo Domingo costs US$40 if 1 passenger, US$25 per person if 2 passengers at the same time and US$20 if 3 or more at the same time. Closer to the festival we will ask everyones flight info to do the pick-up service.
You must arrange your own flight!
The companies flying to Santo Domingo (airport code SDQ) from USA are JetBlue, American Airlines AA, United Airlines UE, Delta Airlines DE, Copa Airlines and from Europe Air France AF, Air Europa, Condor and Air Berlin. The cheapest flights from Paris you'll find from French Blue and from Brussels from Jetairfly. Try also Google "Cheap Flights to Santo Domingo" and compare in www.momondo.com.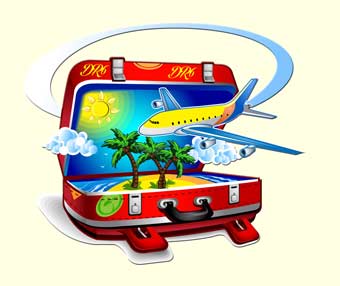 DR9 disclaimer
By paying the DR9 festival ticket you accept the festival Disclaimer, which basically says that DR9 festival and it's organizer is responsible only for the festival workshops, fun activities, parties and concerts. DR9 is not responsible for the flights and accommodation. DR9 reserves all the rights to do any changes to the festival program before prior notice. No refunds even if your favourite artist/ instructor is missing. We will hire more than enough instructors and live bands to recover smoothly the inevitable changes. In the past some live bands have cancelled the signed and paid contract but we have been able to get even better artists to do the job. In DR3/4/5/7 we didn't have any problems at all. Notice! your name is your ticket and we'll check it when you arrive in the festival.