DR4 instructor
Andina Medina

Andina Medina from Las Terrenas, DR is a dream come true dancer for all the men!!! She can follow everything and the way she does it makes man look like the best dancer in the world...like Pipo in the videos of this page. She is a good role model for the ladies who want to learn the essence of the authentic Dominican style bachata. In addition of being such a great dancer, she is also a great performer and top level instructor.

Here you can see how the charisma of Pipo&Andina glows in the sun-set/ moonlight of Las Terrenas beach.

DR4 is proud to present "Bachata Minimalistica" a new way to dance authentic Bachata. We won't publish examples of this unknown new style, because it would be instantly copied! You have to come personally to DR4 to see it! Bachata minimalistica is created by Andina Medina and Bachata Ambassador. It will revolutionary change the way you dance authentic bachata. It's an easy to learn. Andina Medina will teach it with Pipo.

DR4 is proud to be the first festival to teach the Dominican national dance Palo. Palo originates from Congo area Africa and it's brought to DR by the slaves many hundreds years ago. Palo has important role in religious, spiritual and even in Voodoo meetings. Many dancers fall into a trance while dancing Palo. Andina knows not only the Dominican but also the Haitian Palo. DR4 has a live Palo band Atabales San miguel in Guerra. Be prepared to see people (and maybe you yourself) falling into a trance.

Andina belongs to the
Invincible Team
The best Dominican instructors are now ready to serve the dancers and promoters worldwide. Please, fill the contact form in The Invicible Team page in case you are interested in hiring her to your event.
DR4 instructor
Carlitos Calcano
Carlitos Calcaño from Las Terrenas, RD is our new instructor. He is talented dancer, instructor and animator.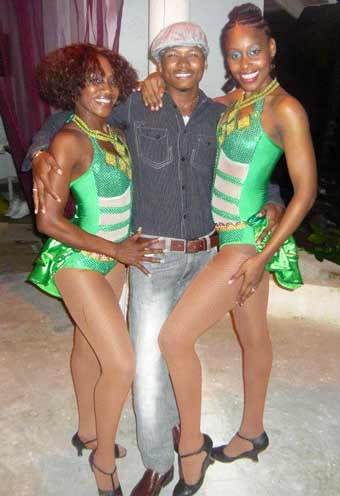 CLas Terrenas animator group: Carlitos, Elaini and Yonathan will do the most demanding animations of DR4 festival.