DR8 diamond level Dominican instructor
Junior Aquino
DR8 proudly presents Junior Aquino from Bonao/ Las Terrenas Dominican Republic. He is our diamond level instructor, performer and animator. He will teach together with Andina.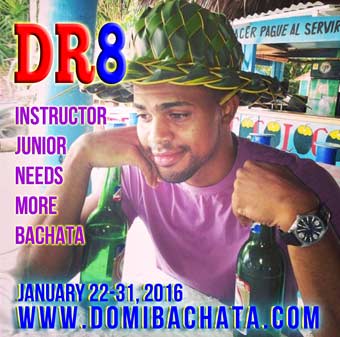 Junior Aquino learned to dance in the colmadons and discotecas of his hometown Bonao, Dominican Republic. He studied the folkloric dance and music in "La plaza de la cultura" of Bonao. Junior got a really strong Palo background from his parents, because his father organizes big Palo parties every January. Junior has started his Salsa Mambo On2 career in Bonao, improved it in Santiago soneros dance studio and now he is the salsa, palo, afro and bachata dance instructor partner for Andina Medina in Las Terrenas. Junior has been dancing all around Dominican Republic. He has been a judge and choreographer for competitions.
Junior will teach in DR7 with Andina Medina Bachata Basics, Callejon, Colmadon and Tropical and with Virginia Tejada Bachata Criolla y con Fow.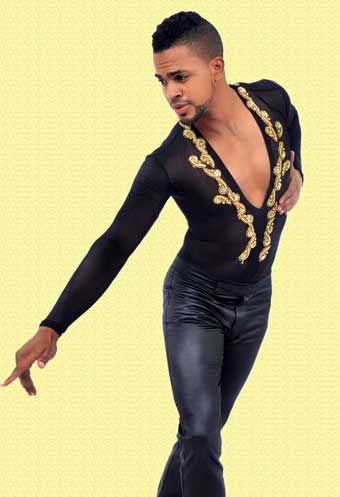 Junior Shows
On the top of the page you can see the amazing Bachata show of Junior, Andina and Virginia filmed in Bar Bodega. It combines the authentic bachata with show elements, acting and story. Extremely well done.
Junior, Andina, Carlitos and Jonathan presented "Merengue in 80" show in DR6 festival.
Junior, Andina, Carlitos and Jonathan presented La Reina de Palo show in DR6 festival.
Junior Videos
Junior dancing Palo in DR7 BachataTour Guerra with the live music of Atabales San Miguel.
Junior&Andina bachata demo
Junior&Andina BachataMinimalista
Junior&Andina ColmadonBachata
Junior&Andina dancing bachata in La Bodega, Las Terrenas.
Junior&Fefita Bachata in Bonao
Junior&Yocasti Salsa in Bonao
Junior in Tour Salsero La Romana 2014
DR8 proudly presents
Junior Bonao Bachata
Junior has recently done significant studies of how people actualy his friends dance bachata in Bonao. The video below is an excellent example.
Junior is part of the
Invincible Team of Authentic
The best Dominican instructors are now ready to offer the authentic Dominican style bachata (the way Dominicans dance) to the dancers and promoters all over the world. Junior lives now in Las Terrenas, Dominican Republic. Please, fill the contact form in The Invincible Team page in case you are interested in hiring him to your event.
Invasion of the Crazy Animators
We have done the biggest possible investment to offer the high quality Dominican Fun Activities (we call it Animations) and to make the participants feel happy. We have close to 10 Dominican animators! We won't recycle the international children plays. DR7 offers hard core fun! DR7 has the extremely successful concept "Invasion of the Crazy Animators" tested in DR6 and now enhanced with new ideas to fit perfectly on the beach of Las Terrenas.
Beach Animation 1
Catamaran Animation
Saona Island Animation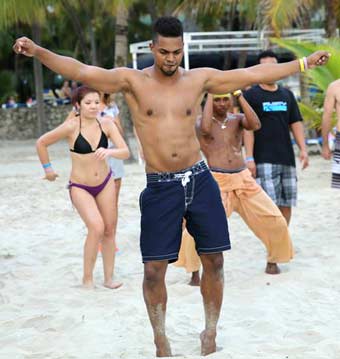 Junior surprised everyone
by singing with Romeo
The worlds most famous bachata singer had a huge concert in Santiago, Dominican Republic. Junior got the opportunity of his life to sing 6 song together with Romeo.