DR8 Bongo and Guira Diamond Instructor
Wilson Tambora

Wilson Tambora comes from Santo Domingo DR to teach us how to play Bongo and Guira on top of Bachata music. Being able to play is your most concrete Musicality lesson and it will help you to hear the instruments and to understand the structure of the music. Wilson works as a professional Bongo and Guira musician in the famous bachata bands. In DR4 we saw him in Guerra with Zorro Negro.

Wilson is a very logical instructor as you can see from the video on top of the page. He can easily teach you how to play Bongo in 1 hour and Guira in the second hour. Wilson will do in DR8 BOngo&Guira basics, advanced and fine-tuning. In the basics you'll learn to play the derecho and majao parts of Bachata music. Advanced class adds decorations and transitions. Fina tuning is to make your playing as perfect as possible.

Wilson Tambora with the DR6 Festival Guira

Wilson with one of his bands



DR8 instruments
Bongos and Guiras
DR8 has Bongo and Guira workshops. You'll learn how to play them on top of bachata music. The workshops are included into the price of DR8 festival, but the instrument itself you'll need to rent or buy. DR8 will buy enough instruments from the Bongo and Guira factories. The instruments are hand-made professional instruments approved by our professional musician and instructor Wilson.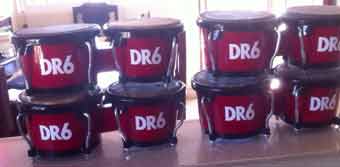 This is our Bongo instrument. The weight is 12 pounds (5,5 kg) and size 8x10x19 inches (20x25x48 cm). We rent bongo for the workshop with US$10 (8€, RD$450). We sell the DR8 Bongo US$75 (60€, RD$3200).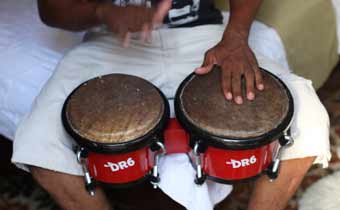 This is our Guira instrument. It's also hand-made professional instrument approved by Wilson.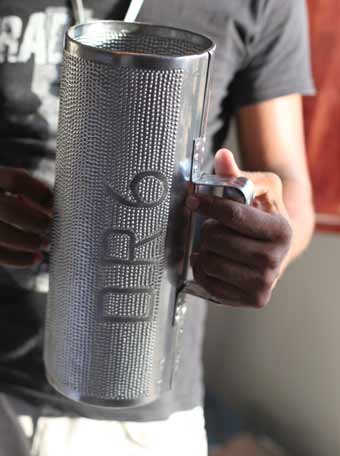 The weight 1.5 pounds (0,7kg) and size 16x13 inches (41x33 cm). We rent guira for the workshop with US$6 (5€, RD$250). We sell the DR6 Guira US$55 (45€, RD$2400).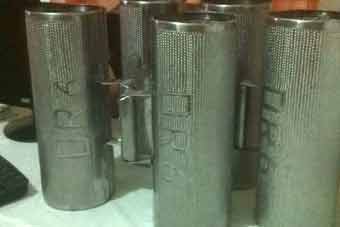 Wilson Tambora is our Bongo and Guira instructor. He has extremely simple and logical way to teach how to play the instruments. Look at the video and practice already at home banging eg. the table :-)
and the Guira workshop