DR9 Organizer
Bachata Ambassador® Vesa
Bachata Ambassador® Vesa, the owner of the trademark Authentic Bachata® and the creator of the methods to teach "how Dominicans dance bachata" as a professional way, the organizer of the first ever bachata festival in DomRep and DR1-2-3-4-5-6-7-8-9 organizer, has created a new world record bachata event DR9 RUTA BACHATERA.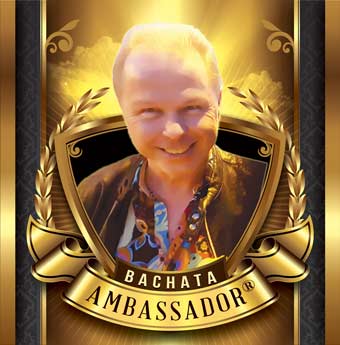 Bachata Ambassador Vesa is now creating the worlds largest Bachata Festival - DR9 VIP FULL FULL 16 DAYS December 2-17, 2016 and DR10 to the end of January 2017. The January festivals DR8, DR6, DR4, DR3 and DR2 had international attendees from 540 counytries and over 10 000 Dominicans in the parties.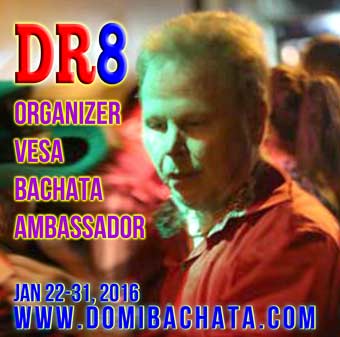 Vesa does the strategic bachata and bolero workshops with Yocasti and bachata evolution story with Melody, Yocasti and first bachateros of the world.
Bachata Merit List
Vesa has visited Dominican Republic since 1989 over 30 times, seen bachata of the 90's, been bachata Dj since 1997, organized parties with bachata since 1997, organized the first really big bachata only party 2003. Vesa is the organizer of the second bachata festival in the whole world (Finland 1st Bachata Festival) and the first ever in Dominican Republic (DR1). Vesa has organized 7 bachata festivals in Europe and now comes the 9th and 10th bachata festival in DR. Vesa is the founder of Authentic Bachata (the way Dominicans dance bachata) in a sense that he created the methods to teach "how Dominicans dance bachata" as a professional way to the world. While the other promoters bring the copies of their international festivals to DR, Vesa does fully Dominican events. Vesa brings the international attendees to the local clubs to dance with Dominicans. Vesa understood right from the beginning that this is the only correct way - the authentic way. All his festival participants will also confirm this being the only right solution.
Understanding the tremendous effort
Organizing a Bachata weekend with workshops and parties is a piece of cake. Having live band multiplies the complexity, because the artists need accommodation, food and transport but more importantly you need to provide the concert place, sound system and a huge marketing to sell the event. Have you ever bought a sound system (mics, stands, mixer, amplifiers, PA's) to do a live band gig? I have boagh, a really good one.
How frequently you have the live bachata bands in your city? Most probably never? Bachata promoters cannot afford bands, because they would need hundreds of attendees to pay it. There is only a handful of bachata festivals and congresses getting thousands of attendees to buy 2-3 bachata bands for one event. Have you ever tried to organize a bachata event to a far away country? It complicates your life. Several bands most probably distroy your life. How about doing an event in DR which does not fully follow the western business making rules? Vesa has done succesfully all of these. Vesa has hired over 70 live bands (Luis Vargas, Yoskar Sarante, Kiko Rodriguez, Joe Veras, Luis Miguel del Amargue, Marino Castellano, Ramon Torres, Teodoro Reyes, El Pequeno de la Bachata, etc.. DR1-3-4-6-8 had about 14 live bands (some of them solo artists).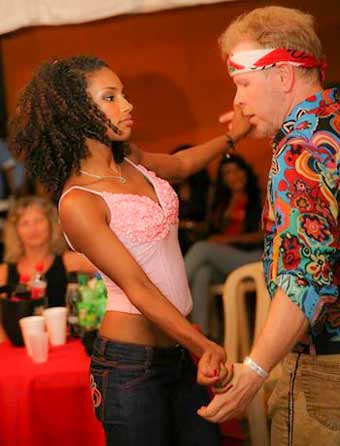 There are just a few dance schools in Dominican Republic and most of them are specialized in Salsa. Before Vesa there weren't professional bachata instructors. Vesa had to educate the first ones and now his DR festival factory has all the best Dominican bachata instructors. Teaching the authentic is difficult, because it's in the blood of dominicans and they haven't done extensive studies on the philosophy, structure, elements and common usages of authentic bachata. Vesa had to educate the talented Dominican dancers (and other genre instructors) to understand the philosophical part of bachata and helped them to get started with the authentic bachata workshops.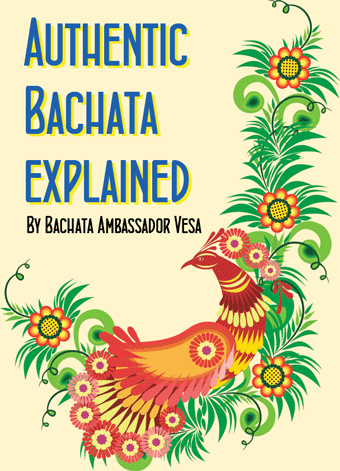 Authentic Bachata (=the way Dominicans dance bachata) is a dance genre of it's own. It's an architechture with a commonly known structure with preferred patterns and practices. The styling and decorating varies. Therefore every Dominican looks like dancing differently. Read the whole definition
Trademarks
Dominican press gave Vesa the artistic title Bachata Ambassador® 2006 when Vesa did heroic act by being the first one to organize huge bachata concerts in Northern Europe. Bachata Ambassador® is officially registered trademark. Vesa registered also Authentic Bachata® to prevent it to be spoiled by the misusage of the international instructors.

Instructor of the Authentic Bachata
Vesa has most propably the best method to teach the Authentic Bachata Fundamentals (1 hour) and Essentials (2 hours). The fundamentals workshop (in DR9) makes practical magic, the attentees instantly feel like dancing authentic. The essentials workshop is to learn the basics and to understand the broad scope the authentic bachata.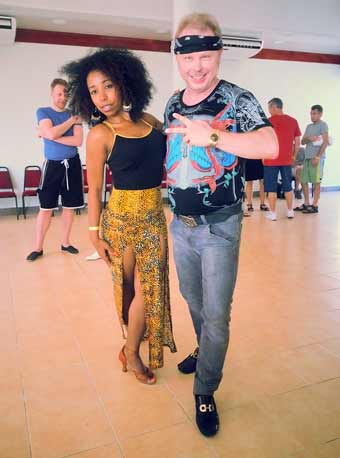 The reason why Vesa (non dominican instructor) is talented in teaching the fundamentals and essentials is because he has the longest scientific experience (many times longer than any Dominican has). Vesa knows the international bachata styles to easily make a judgement of what belongs and don't belong to authentic bachata. Most importantly he is experienced in undertanding why international attendees have problems to learn Authentic.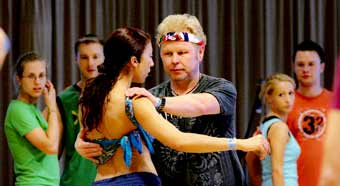 There are unlimited ways to shine in authentic bachata. Therefore all our diamond level Dominican instructors can be regarded as the best authentic bachata dancers, because all of them have different styling. This is the great secret of authentic bachata. The way Dominicans dance share a common structure and elements (Vesa's workshops), but the styling varies (DR9 diamond level Dominican instructors).
Vesa has resently studied why some videos have hundreds of thousands or millions of visitors. Vesa will reveale some of these secrets together with Yocasti.
Vesa@Yocasti Colmadon Bachata
The video on the top of the page and below have been recorded in the Colmadons of DR.
Magic box by Vesa&Yocasti
Triple natural by Vesa&Yocasti
Vesa&Francelis Bachata&Merengue
Vesa@Yocasti Bolero
Vesa&Liccelot Bolero
Vesa&Yocasti Merengue
Vesa&Liccelot Merengue
Bachata History and Evolution
Dominican Republic has an extremely interesting colonial history where the music and dancing has played an important role. Tainos, Columbus, Slaves, Drum, Religions, Beliefs and Politics have been the driven forces in the music and dance evolution. Why DR ended up in being Palo and Merengue country? How Bachata evolved? Why there are so many false Bachata evolution stories? Vesa believes that all of this is needed to understand the Authentic Bachata while e.g. Zumba/Gym/International Bachata dancers aren't interested in the historical and cultural aspects. In the picture below Vesa is discussing the bachata history with the bachata prioneers Edilio Paredes, Esteban Mariano and Hermanos Paula in DR4.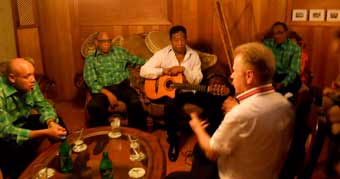 Vesa has organized also the concert of Jose Manuel Calderon, who recorded the first bachata in the world.
Endless Amount of Ideas
Vesa noticed that learning how to play Bongo and Guira will help you to hear the rhythm of bachata more precisely. It's amazing how easy it is to learn to play the bachata basics and how much it helps the dancing.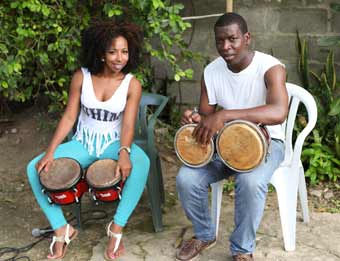 Vesa has done several times an excursion to Fula river. It's a mountain jungle with no international tourists, just Dominicans having traditional fun of eating, drinking, swimming and dancing.
Vesa noticed that 1 2 3 tap stepping isn't the only way to learn to dance authentic bachata. He is constantly creating new approaches on how to learn authentic or how to imitatate the natural learning processes of Dominicans.
Keep returning
We keep offering the new ideas, ground-braking ideas. Authentic Bachata is too huge to be fully covered. DR festivals will introduce new cities, beaches, clubs, artists, instructors, animators and most importantly the new ideas that the other events never have heard about. Keep returning to the most authentic, exotic and fun festival in the world.
The Story of
Vesa Parkkari
Inventor, innovator, inspirer - engineer, professor, scientist - artist, instructor, promoter. The master of the logics, timetable, easy guy, crazy guy, reliable - never cancelled any of his over 1000 events. His creations have always been years ahead of others, in childhood with electrical equipments, later on with computers, networks and digital videos and now with bachata events.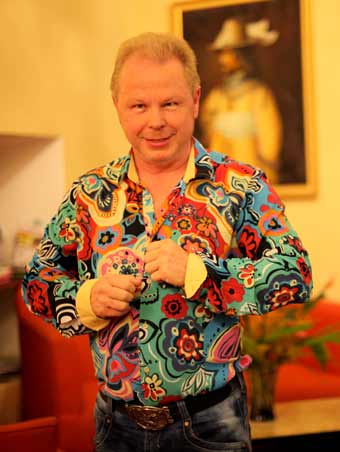 Engineer -> Artist
It's pretty common. Engineers have logical thinking, which is extremely important in dance education. Organizing an event follows the same principles as organizing a high tech event. Engineer can convert to an artist if he carries the passion and hidden talent. Vesa absorbed the bolero mood when he was a Dj and had just 5 years of age. He inherited the dancing, but the real desire popped out in south american and caribbean tours in the 80's. He is a great admirer of the authentic small club atmosphere and capable of creating big scale parties as they would be a cosy small club experiences.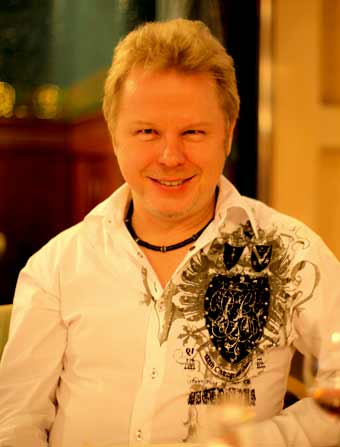 Event experience
Vesa has organized over 1000 technical events. Maybe he is the most reliable promotor in the world, because he has never cancelled any of those events. Vesa has organized courses, classes, conferences and large scale high tech expo's. Organizing a weekender dance event is a peace of cake in comparison. Finland Festivals were so big and innovative that naturally they were really complicated and laborous to do. DR festivals with 14 live bands and 25 instructors is such a factory that no-one can imagine the amount of work needed. It's getting a bit easier with DR9 because Vesa has educated the instructors, key staff and co-operators the efficient methods.
Yoskar Sarante Concert Tour in Finland
Vesa carried 2 lorries full of sound, light and decoration technics to build up the best ever concerts to a huge Komeetta restaurant and next day to Tampere hall in 2006. It was the first time to see the best quality Bachata Concert in Northern Europe. Yoskar Sarante with his 13 people band was so good!!! Most propably they did the best concert in their life.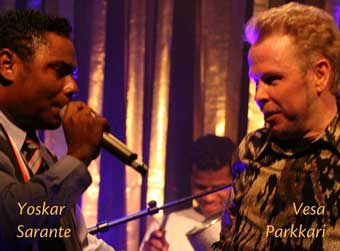 The sound system, lighting and decoration was better than we have ever seen since that. Both concerts succeeded perfectly as you can see from the video.
Finland Bachata Festivals
The first Bachata Festival in the whole world was organized in 2008. A few months later on Vesa organized the Finland 1st Bachata Festival (second in the whole world). The instructors were Rodney Aquino, Marcela Cardenas and Vesa. Next year Finland 2nd Bachata Festival was much more advanced and nearly double as big.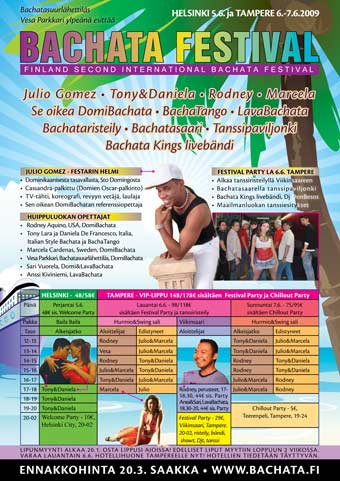 It was in 2 cities in Finland including a cruice to a virgin island. The instructors were Vesa, Julio&Yeny, Toni&Dani and Rodney. Vesa did a crazy expensive investment bringing Julio&Yeny from Dominican Republic to teach Authentic Bachata. At that time there was only Vesa in the whole world promoting Authentic Bachata. Look at the Julio&Yeny video from that festival. Later on it was too much work to do huge festivals both in Finland and Dominican Republic. Vesa decided to concentrate in doing the best of the world Authentic Bachata festivals in DR.
Festivals in Dominican Republic
It was a crazy big risk to do the DR 1st Bachata Festival. Vesa discovered that there aren't any professional bachata instructors in Dominican Republic. Festival planning attracted all the abusers. Vesa learned the lessons in DR1 and already his DR2 was excellent. All the following festivals were 50-100% bigger and better. Attendees praised them as the best of the world experiences.
Charity and Cultural Respect
Vesa has never regarded Authentic Bachata and DR festivals as a job to earn money. It's a pasion. It's a must. Someone has to be responsibility in sharing the mighty Authentic Bachata to the whole world and to keep the bachata dancing alive in DR. Most of the DR festival ticket payment money end up in DR helping the artists, instructors, clubs and their friends to keep bachata alive in DR. It's Cultural Respect and Economical Stimulus in it's best and we are sure the other international promoters can NOT reach anywhere near to our high percentage in leaving money to DR.
In addition to leave most of the DR festival money to Dominican Republic we have also actively collected donations to Casa Rosada.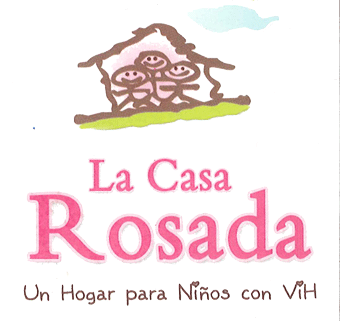 Authentic Bachata Europe Tour
Bachata Ambassador has organized 2014, 2015 and now May 2016 Authentic Bachata Europe Tour with Weekend Events together with Rodolfo and Yocasti. Here is an example of how we do the extended weekend in Tampere Finland May 5-8, 2016.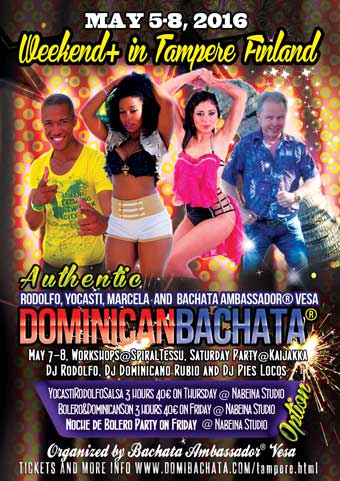 Look at the full description of the Tampere Finland event in here.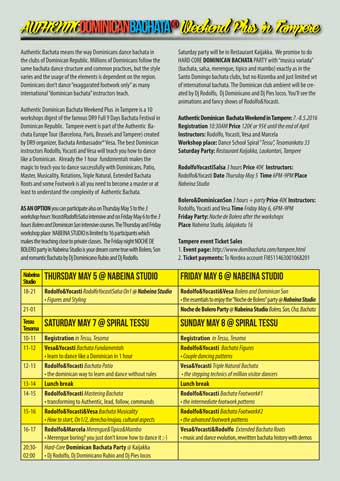 Weekend event we had in Stockholm Sweden 2015.
Weekend event we had in Tampere Finland 2014.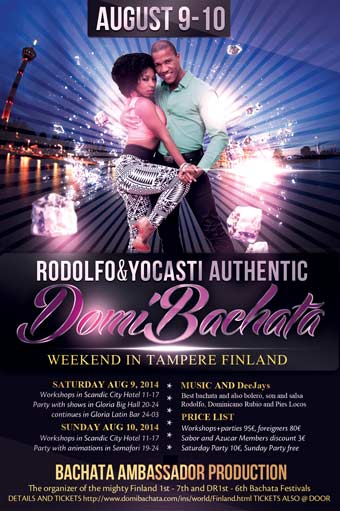 Authentic Bachata World Tour
Once we get the Europe Tour done, we are ready to plan the Authentic Bachata World Tours
Video material
Vesa has over 200 authentic bachata videos on YouTube. His channel has over 5 millions of visitors and the most popular bachata instructor videos have half a million.
Vesa is a video production professional. He organizes the video production courses for companies, instructors and professional.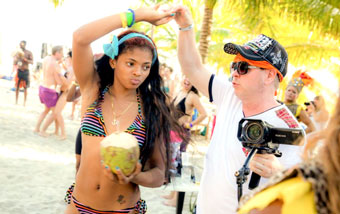 DR4 festival trailer is an example of the marketing video filmed and edited by Vesa.
Photos, Flyers and Posters
It's unbelievable how much visual material is needed. Here is an example of a DR7 poster.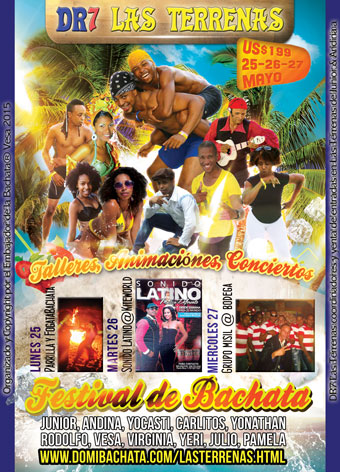 Web-site, Facebook and YouTube
Regular events have 1 page, because the customers in the same city already know the concept, dance genres, instructors and venues. Authentic Bachata isn't yet known around the world and unfortunatelly it's mostly misunderstood. The Dominican instructors of the Authentic Bachata aren't yet well-known all over the world, except Rodolfo, Yocasti and Vesa. Therefore DR9 has to have detailed explanation of the Authentic Bachata and it's Dominican instructors.
DR festivals are Dominican events, totally different than any other bachata festivals and congresses of the world. While the other promoted hide the participants to the workshop halls of a hotel, we carry the attendees with big busses to the local bachata clubs all over DR. Learning to dance like a Dominican and seeing thousands of Dominicans in the parties is something that must be explained in details, because the dancers in the world don't have experiences like this.