Under construction
Just working with
this page
Consider the
Dinner recommendations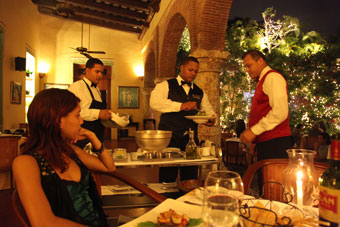 Dinners are not included into the Festival ticket price. Dining is totally up to you and we don't recommend you to blindly follow our recommendations. Some of the restaurants are extremely expensive luxury venues and maybe you would find yourself more comfortable in KFC or Pizza places. There won't be any group transports to dinner places and anyway the Hotel Intercontinental is an excellent place for dining.
See the recommendations »
Colonial City Walking Tour


Would you like to see the colonial buildings in Santo Domingo that date from the Cristopher Columbus Era? And to see how the Taino Indians and Africans fit into the historical picture? The most famous Taino & Columbus reseacher, Lynne Guitar, will show you the most important buildings of that age in the 2-hour walking tour. You'll be amazed by her true stories.
See the tour description »
Shopping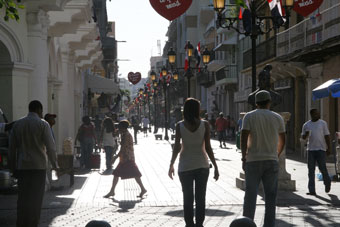 Serious shopping is a complicated and time consuming process in Sto Domingo. We recommend you to do the shopping before or after the Festival. Google and ask the hotel for some shopping advices. The street El Conde will be one of the obvious choices and it's enough close but don't loose your money to thieves. Many of them live in the Conde street. You'll find the shopping mall Plaza Central more relaxed, but the taxi drive can take even an hour due to the terrible traffic jam.

Share your
Traveling tips
Join the Facebook group "Dominican Republic 2nd Bachata Festival". Share your DR traveling tips and check the tips of others.
Planning your trip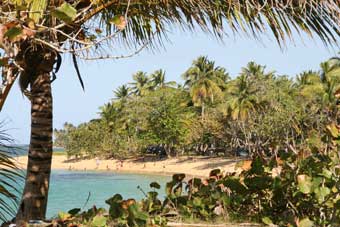 It's totally up to you. Some of the nearby attendees will attend just the Festival 4 days, while the far away attendees will most propably combine their 1-2 weeks holiday with the 4 day Festival. Dominican Republic has beautiful beaches, excellent sports activities, cultural attractions and of course vivid music and dance oriented life style. Google for more informacion. We cannot be you personal travelling agency in your personal holiday. Our duty is to create the unforgettable festival for you.
Security issues
DR is one of the safiest latin countries. Knowing what to do and behaving in a culturally correct way with a bit of spanish makes everything smooth. Bachata Ambassador regards, from European point of view, Sto Domingo safer than the US big cities. However you should google the macho culture rules. The behaviour rules in DR clubs differ dramatically from the Salsa/Bachata club rules elsewhere. Therefore "How to survive in Santo Domingo Dance Clubs" workshop&panel discussion will be a must for everyone.
Transportation and taxis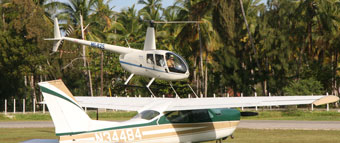 Dominican Republic is enough well connected. Santo Domingo airport (Las Americas) is big and there are a lot of taxis to take you to the hotel. In case you'll arrive into some other DR city make sure you'll have the Wednesday time for travelling to Sto Domingo. You might even consider helicopters and domestic flight to have some expensive fun, but seriously speaking the Metro and the Caribe Tours busses are the best ones to move around.
Carneval time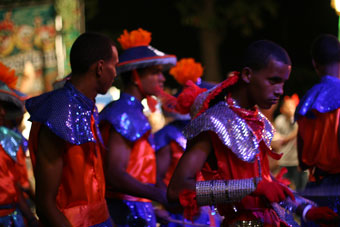 Carnival is the biggest attraction of DR. See more