The coming festivals
DR10 and DR11
DR10 information with details and tickets you'll find in this page. DR11 information will be published later on and it will most probably be before the Christmas of 2017.
Diamond News First - Grande Finale
DR9 has Anthony Santos
and Raulin Rodriguez
Bachata Ambassador Vesa is proud to present both Anthony Santos Dec 16 and Raulin Rodriguez Dec 17, 2016. It's much more than you could ever wish to happen in your bachata life. It will not happen twice and the unique opportunity will disappear if you don't act immediately. The best in the word naturally sell out in a snap. Both concerts are meant for drinking and dancing in the rural Fantino village and Constanza mountine of Dominican Republic. The diamond concerts are part of the world-record DR9 Ruta Bachatera Plus Dec 13-17 US$830. The tickets, payment instructions and more options can be found in the DR9 ticket sales page.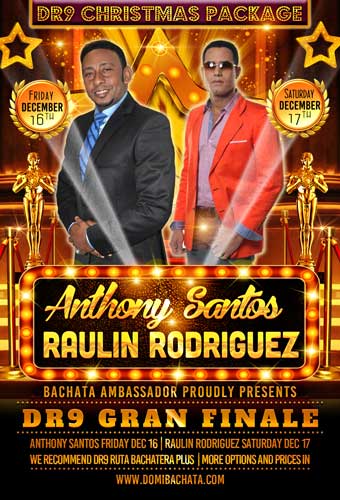 DR9 is truly the most
Authentic, Exotic and Fun
DR9 (Dominican Republic 9th Bachata Festival and Dance Adventure) is truly the most authentic, exotic and fun festival. We have excellent records. Participants repeatedly evaluate our congress to offer the best in the world festival experience. The strongest proof of the quality is that most of the attendees have returned and part of them up to seven times. Now we do the 9th and 10th festival in Dominican Republic.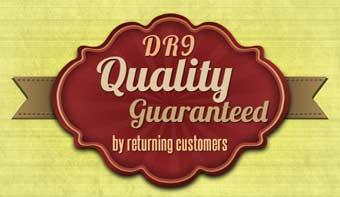 DR9 is the longest, biggest and most wanted Bachata Festival in the world. DR9 FULL has 16 days divided into three parts.

DR9 PreRuta Bachatera 7 days Dec 2-3-4-5-6-7-8 costs US$920 (includes festival and a shared double room 6 nights), DR9 Santo Domingo VIP 4 Days Dec 9-10-11-12 costs US$340 (just workshops, parties, concerts and concert transport, no hotel) and DR9 Ruta Bachatera Plus 5 days Dec 13-14-15-16-17 US$830 (festival + shared double room 4 nights + three dinners+Anthony Santos+Raulin Rodriguez). The three parts fit seamlessly together and give you an option to participate 16, 11, 9, 7, 5 or 4 days.
DR9 PreRuta Bachatera
DR9 PreRuta Bachatera 7 Days Dec 2-8 is an excellent combination of workshops, big city parties, river madness, king treatment, extreme adventure and three days beach&pool fun. PreRuta has a private charter bus Santiago-Jarabacoa-Vega-Damajagua-Cabarete-Sto Domingo. The price US$920 includes 6 nights in a shared double room, bus transport, concerts and workshops. The attendee amount is limited to 40, because the clubs and hotels are small and we move by bus. DR9 PreRuta has 12 workshop hours by Vesa, Yocasti, Rodolfo, Julio and the instructors of Bachata Academy, enough to learn to dance like a Dominican and anyway you'll get 30 workshop hours in DR9 Santo Domingo VIP right after PreRuta.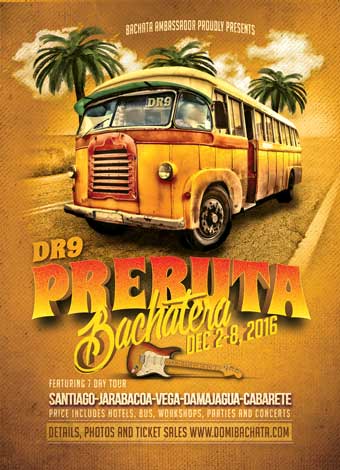 PreRuta will certainly be the most exciting dance adventure: Amazing big parties in Santiago, brand new filming session, gourmet restaurants, luxurious hotels, karaoke dance, best bachata clubs, photo session, extreme river and waterfall diving, bachata academy musicality classes and concert and a lot more to be announced.
DR9 Santo Domingo VIP
DR9 Santo Domingo VIP has no attendee amount limit. The party places are huge. We will have 30 workshop hours with the best instructors Wilson, Yeri, Melody, Hilary, Rodolfo, Franchelle, Marcela, Liccelot, Julio, Johan, Susan, Carlos, Carlitos, Yocasti, Vesa. The focus is on Authentic Dominican Bachata (the way Dominicans dance) fundamentals, intermediate, advanced and all new. We teach also how to play Bongo&Guira and the fundamentals of Merengue, Tipico, Mambo, Bolero and Son.
DR9 Santo Domingo is committed in bringing you the best ever bachata experience. That's why we call it VIP. You'll see the best and most interesting bachata artists in the biggest or otherwise most popular places. You'll see the colmadon magic, car-wash experience, ruins, cabaret, gourmet restaurant and huge club glory.
DR9 Ruta Bachatera Plus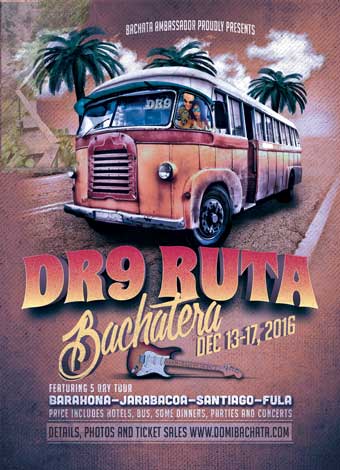 DR9 Ruta Bachatera Plus is a private charter bus Santo Domingo -> Barahora -> Los Patos -> Jarabacoa -> Santiago -> Fantino -> Fula River -> Constanza -> Santo Domingo showing all the Bachata attractions on the beach, river, mountain, pueblos and barrios. Now that we have also Anthony Santos Dec 16 and Raulin Rodriguez Dec 17 it's called Ruta Bachatera Plus.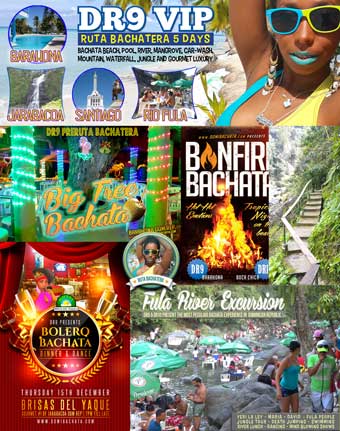 DR9 combines the best knowledge and the Dominican crazy dance culture. Welcome to have Dominican fun :-)
DR9 FULL 16 DAYS
DR9 PreRuta Bachatera
Friday
Dec 2
Workshops @ Santiago
Cowboy Dinner, Escuadron Tipico&Bachata & Puente Bar
Saturday
Dec 3
Workshops @ Santiago
Filming and animation, Gourmet Dinner, Barajando
Sunday
Dec 4
King Treatment @ La Vega
River Maddness, Carretera Colmadon, King Treatment, Photo Session, Karaoke Dance&Dine, Bukna Bar @ La Vega
Monday
Dec 5
Cabarete Beach
27 Charcos Extreme Adventure, sunset beach&pool fun
Tuesday
Dec 6
Fun Activities, Bachata on Beach&Pool @ Cabarete
Bachata Academy Musicality workshops
Bachata Academo Concert @ Voodoo Lounge
Wednesday
Dec 7
Fun Activities, Bachata on the Beach&Pool Cabarete
Rio Verde Megafiesta @ Montellano
Thursday
Dec 8
Transport to Sto Domingo, Divas Shopping
Sabor a Son @ Lucia, Zona Colonial Sto Domingo
SANTO DOMINGO PART OF THE FESTIVAL
Friday
Dec 9
Workshops @ Trampolin
PreParty @ Club Merengue, Bachata Concert Dinastia @ L'Hangar, Sto Domingo
Saturday
Dec 10
Workshops @ Trampolin
PreParty @ Colmadon Zona Colonial
Bachata with live band @ Barrios, Sto Domingo
Sunday
Dec11
Workshops @ Trampolin
Grupo Bonyé @ Ruins + Cabaret & Car-Wash Magnolin
Monday
Dec12
Workshops @ Trampolin
Noche de Bolero&Bachata with Solterito del Sur @ Gourmet Restaurant Angelo
DR9 Ruta Bachatera
Tuesday
Dec13
Transport to Barahona
BonfireBachata, Malecon BachataTour
Wednesday
Dec14
Los Patos and Barahona
Talleres, Patos Tour, Pool Bachata, Big Tree Tour
Thursday
Dec15
Jarabacoa
Noche de Bolero&Bachata @ Mountain Gourmet
Friday
Dec16
Santiago
Waterfall Tour Jarabacoa, Gourmet dinner @ Santiago and the whole night in Anthony Santos concert @ Fantino.
Saturday
Dec17
Fula->Santo Domingo

Fula River Madness, death jumps, anim, shows
part of the attendees will leave early enough to Santo Domingo to catch flights

Ruta Plus participants will continue to Raulin Rodrigueq concert @ Constanza and return back to Santo Domingo very late, maybe 6am
DR9 Detailed Outline
Click the picture to get .pdf and read the next page Program.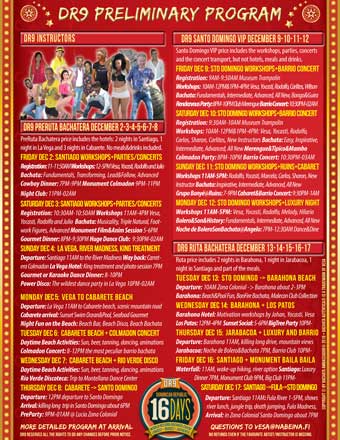 Beginners, adventurers and advanced
DR9 is totally different than any other festival in the world. We don't have boring dance school parties in the hotel. We don't teach international bachata, kizomba or other non-dominican genres. DR9 is strictly Dominican. We teach only Dominican dance genres and we dance with Dominicans in the Dominican bachata clubs. We offer the workshops for beginners and advanced dancers. We have absolutely the best authentic bachata knowledge to serve the bachata instructors around the world.
Most of the attendees come alone. You don't need a dance partner because we have tons of dance partners for you. If your own partner or friend hesitates, you should feel lucky to come alone like most of the other attendees". DR9 is not a dance competition camp for divas. It's a dance adventure to learn Dominican dance culture and to live the Dominican party life. Dominican Republic (DR) is the home of bachata where virtually everyone dances Bachata. The country is full of talented bachata singers and live bands. This is your opportunity to be inside bachata - to feel, smell and experience it - and to live the real bachata life.
DR9 is exotic, fun, practical and scientific
Dance Festivals and congresses tend to be one-dimensional copies of each others repeating the same (sometimes boring) pattern. DR9 is totally different and unique. It is the only festival that takes participants out of the resort to attend concerts and parties in local venues to see 10 000 Dominicans who have never taken any dance classes but still dance better than us. DR9 is tropical, exotic, fun and even crazy in the fun activities. However we take the workshops seriously and we maintain the highest professional knowledge of Authentic Bachata. Some of our instructors are scientest, historians, engineers and some are film stars, TV stars, comedian or just crazy jungle dancers. DR9 HAS IT ALL ! You'll be astounished to see such a variety of different people, aspects and ambients.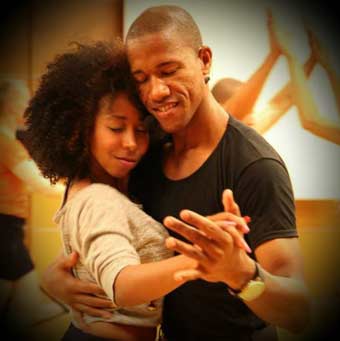 DR9 key instructors Yocasti and Rodolfo from Santo Domingo Dominican Republic.
Bachata Business Rules in DR
DR3, DR4, DR5 and DR7 went smoothly. We didn't have any problem of whatsoever. Maybe we were just lucky or maybe the festivals were perfectly planned. However, we have to take into consideration that Dominican Republic does not follow all the international rules of business. Some of the Dominican bachata artists, party places and instructors have been known to break signed and paid legal agreements. Due to these problems DR9 clearly states that nothing can be guaranteed and changes from the published schedule will occur. The changes and cancellations do not entitle ticket holders to any discounts or refunds. In the past when cancellations occurred the festival organizers have always found excellent replacements.
Los Festivales proximas
DR10 y DR11
DR10 informacion con sus detalles y entradas estan aqui. DR11 informacion estara antes de Navidad 2017 y su informacion publicamos más luego.
DR9 is absolutely amazing
Dance Adventure
DR9 is the longest in the world, 16 days, every day we party in a different place, 25 parties/concerts with 10 000 Dominicans. It's a magical Dance Adventure! We visit Santo Domingo, Santiago, Vega, Jarabacoa, Constanza, Fantino, Damajagua, Rio Fula, Barahona, Los Patos and Cabarete. It means rivers, mountains, beaches, countryside, pueblos and barrios. You'll dance in a Colmadon, Car-Wash, Sport Bar, Club, Discoteca and Night Club. It would be a shame to fly to Dominican Republic to see just an international resort hotel and never go outside the hotel to see the real party life with Dominicans in the above mentioned places. DR9 accommodation is not in a resort hotel. DR9 has higher quality, authentic and exotic accommodations all around RD.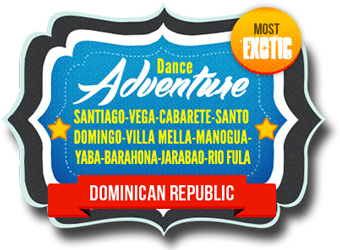 Fula River
Fula River Excursion has always been one of the most authentic, exotic, inspirative and craziest experience in the festival.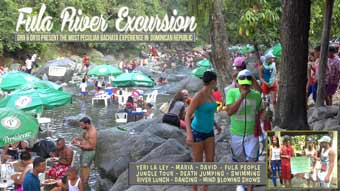 You can consider PreRuta and Ruta Bachatera being like 5 x Fula River experience. Rutas will have several rivers, waterfalls, fresh water pools, mangrove, mountains, countryside, scenic views and THE BACHATA MADNESS OF THE WHOLE COUNTRY.
Enjoy the memories
Social media and Youtube is full of previous festival photos and videos. Look e.g. Bachata Ambassador Vesa Youtube channel. Look also the photos in the Facebook groups of DR8 and DR6. Below you can see DR6 memories trailer.
Bachata Ambassador Innovations
Bachata Ambassador Vesa has created the new teaching methods for Authentic Bachata like philosophy, structure, common practices, natural, adaptation and magic box. His bigger concepts include BachataTour, Fine Tuning, Extended Bachata RootsPreRuta and Ruta Bachatera, Rewritten Bachata History, BonfireBachata, Fine Tuning, Palo and Learning to Play Bongo & Guira.

DR9 is organized by
DR9 is organized by Bachata Ambassador® (Vesa Parkkari from Finland). Contact Bachata Ambassador

to become a Marketing Partner. Look at the full description of Bachata Ambassador.
Cooperating with DR9
Have you dreamed about organizing an event in Dominican Republic? Now you can do it, easily and risk free. The simplest way is to bring your people to DR9 and earn commissions. You could also combine your own ideas with DR9! Call it "Your Event Powered by DR9". Produce one or several days of your own contents and buy the rest from DR9. It's beneficial for both parties. Doing everything by yourself would end up in 5-10 years learning and loss making process or just a "hotel only" boring event. We welcome all the individual, dance schools and association to co-operate with us. Contact DR9 organizer

to get started. Co-operation is fun and easy!
DR9 is not a standard dance school event
Nearly all of the bachata and dance festivals in the world are organized by dance schools. It's a big limitation because the dance schools have to promote their own services and by default they offer "dance school generated dancing techniques and dance school oriented dance parties". Fortunately DR9 organizer Vesa does not have a dance school. Therefore DR9 IS NOT LIMITED to 1 school, 1 city or anything that limits it's scope. DR9 does not suffer the competition issues, because there aren't any other festival similar to DR9 or competing with DR9.
DR9 main focus is in Bachata, but we do offer also Merengue, Tipico, Mambo, Palo, Dembow, Son and Bolero. Dominican clubs play VARIADA (all Latin music), although some clubs have more bachata and some have more merengue type of music in their repertoire.
DR9 organizer has 26 years experience in Dominican Bachata. DR9 instructors have hundreds of years experience on Bachata. You cannot find any other event having more than 40 years of Bachata experience. DR9 is the reference of Authentic Dominican Bachata. We have done a huge groundbreaking work and the whole world is tcopying us !!!
DR9 trademarks

Bachata Ambassador® is a registered trademark owned by Mr. Vesa Parkkari from Finland. It's a title given by Dominican press 2006 when Vesa did heroic act by being the first one to organize a huge bachata concerts in Northern Europe. Vesa organized the second bachata festival in the whole world 2008 and the first ever Bachata Festival in Dominican Republic 2011. Now, after organizing 7 festivals in Europe and hiring over 70 Dominican live bands and artists, he is ready to present the most precious work of art: DR9 (Dominican Republic 9th Bachata Festival and Dance Adventure Dec 2-17, 2016).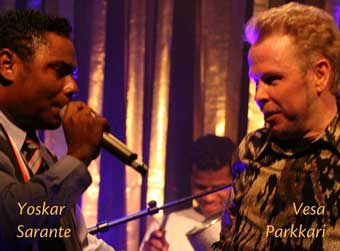 Vesa has done diplomatic bachata tasks and planned together with the Dominican press, TV, associations, artists and instructors the Dominican bachata worldwide expansion. Vesa is truly an Ambassador and due to registered trademark he is and will be the only Bachata Ambassador® ever.
Vesa registered Authentic Bachata® to protect it to mean "the way Dominicans dance bachata". The word BACHATA means internationally too many things and needs a qualifier to specify the exact dance genre. Dominican Bachata and DR Bachata would be nice words but now they are misleading due to the heavy misuse of the international bachata instructors. Vesa introduced "The Real Dominican Style Bachata" 2009 to pinpoint the misuse and to prove the existence of "the way Dominicans dance bachata" being a dance genre of it's own. Later on Vesa abandoned the provocative title Real Bachata, because authentic is more accurate and positive expression. Traditional bachata is a good title also but might give an impression of the bachata styles used only in 60's and 70's.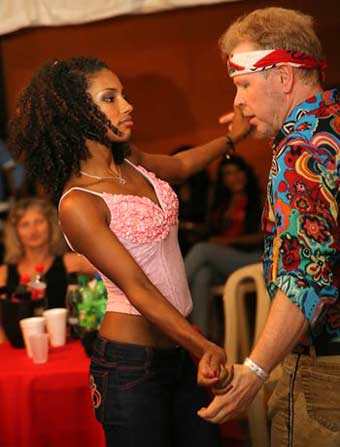 Bachata Ambassador® Vesa recommends to use the Authentic Bachata® title only if you are sure to mean "the way Dominicans dance bachata". Registered trademarks are copyrighted and protected by law. Please, ask the permission from Vesa or choose some other title. The Domain Names www.domibachata.com and www.bachata.com.do are registered by Vesa.
Bachata Ambassador Vesa AWARDS
Vesa has been awarded by La Romana City Council, La Guerra Town Hall and Paraiso Musical. Being able to organize and bring festival participants to nearly 100 concerts is big achievement and has been noticed in several cities in Dominican Republic.